French Count Sues Owners of Champagne Brand that Bears Family Name After They Hire Ex-Porn Star to Promote It
French aristocrat takes legal action against the champagne company founded by his ancestors after it inked a deal with a former porn star.
Lille, France — A self-righteous descendant of the Charles de Cazanove family is suing the owners of the champagne brand that bears his family name after they used a former porn star to promote it.
Loïc Chiroussot of Bigault de Cazanove is attempting to pressure the current owners to remove the name from a limited edition pink champagne called 'Champagne by Clara Morgane'.
Ms Morgane's promotion of the champagne has involved a series of provocative photos posing with champagne bottles on her Instagram.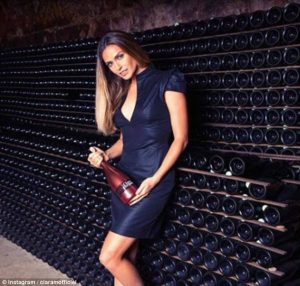 Chiroussot told the newspaper L'Union that his family had been ennobled by King Louis IX in the 13th century and had joined the French Resistance against the Nazis in the 20th. "My uncle Roger de Bigault de Cazanove died after being deported on January 21st. General de Gaulle was a friend of the family. Uncle Roger would never have accepted [the contract with Clara Morgane]. My ancestors would turn in their graves if they knew. They must be in tears."
[Hard to believe that the race who gave the world 'frenching" would be so upset. — ed.]
Ms. Morgane began working in the adult movie business in 2000 with her then boyfriend, and left two years later. In 2007 she began a music career.
After hearing about the count's plans to sue, the French chanteuse took to Twitter and Instagram with her response.
"This gentleman Chiroussot, great nephew of the family, should have asked the question of the will of his ancestors before the sale of their name and that, a long time ago.

'I imagine that his little anger prevented him from tasting our delicious nectar. I propose to send him a bottle so that he can have a good time of liberating emotion.'"
The Cazanoves sold the champagne brand in 1958.
From the Daily Mail
I never felt more satisfied or optimistic than when I rode the river in my youth.