DENIED: Federal court shoots down Stormy Daniels' 'premature' move to depose the President and his attorney
Premature indeed. This is all a bunch of foot-dragging meant to keep Stormy's name in the headlines; the case is headed back to arbitration, folks.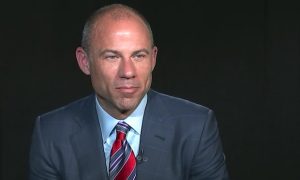 A federal judge today denied the request from Stormy Daniels' brash lawyer to depose president Donald Trump and his attorney Michael Cohen in her lawsuit against them.
James Otero, a federal judge in the central district of California who was appointed by George W. Bush, ruled the motion was "premature and must be denied".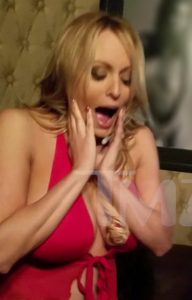 The ruling does not preclude future efforts by Daniels to compel a deposition from Trump; it was issued on procedural grounds as the litigation is still in its early stages. 
Daniels' lawyer, Michael Avenatti, filed the motion Wednesday requesting a deposition "of no greater than two hours" for Mr. Trump to appear in court.  Avenatti also sought to issue no more than 10 document requests to Trump and Cohen "on various topics relating to the Hush Agreement" under which Daniels accepted a $130,000 payment in 2016.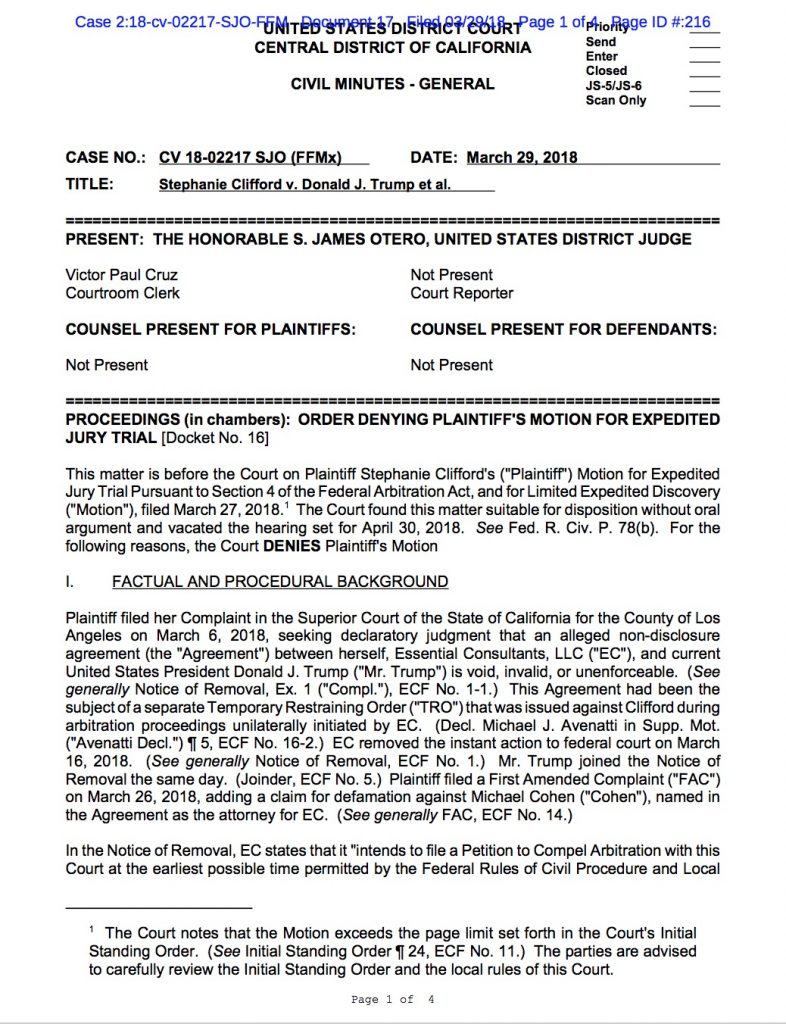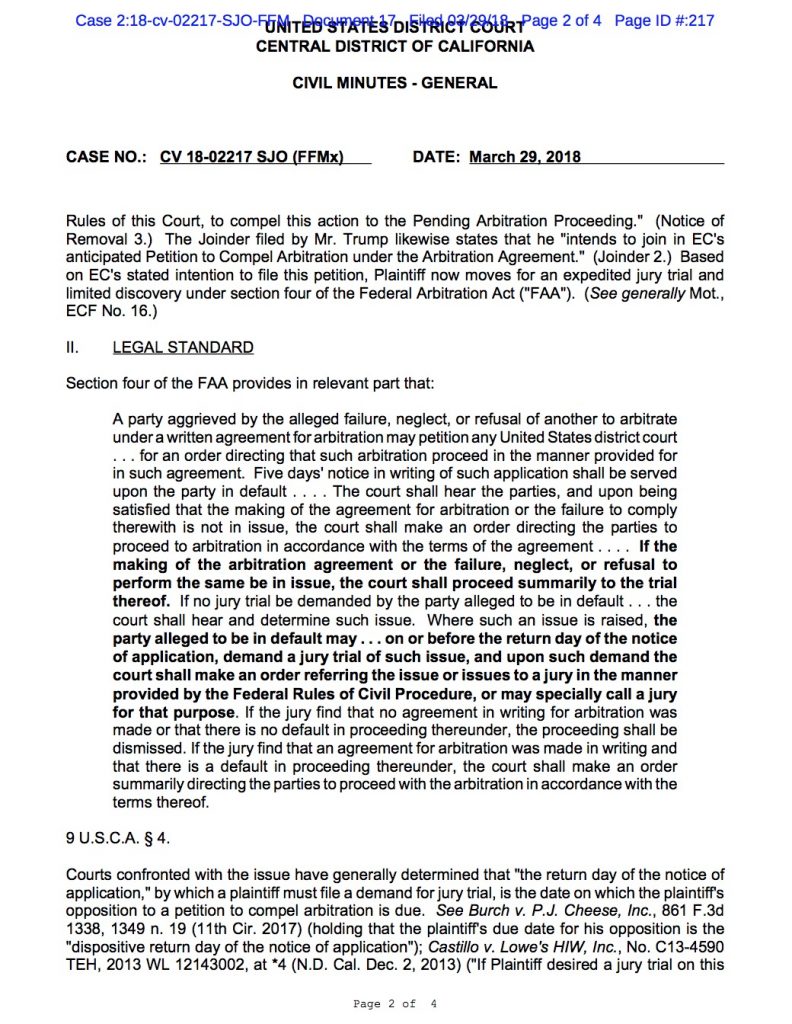 Supreme court precedent exists for Trump to testify and face litigation under Jones v Clinton in which the court ruled that the then-president, Bill Clinton, was not immune from a civil lawsuit accusing him of sexual harassment. The majority concluded that the "Constitution does not offer a sitting President significant protections from potentially distracting civil litigation."
Daniels is suing Trump and Cohen in an attempt to void the hush agreement that paid her $130,000 in exchange for her silence about her allegations over a sexual encounter with the president in 2006.
She claims that because Trump never signed the agreement that it is legally void. Instead it was signed by Cohen, on behalf of an LLC he created called Essential Consultants, and by Daniels less than two weeks before the 2016 election.
Daniels has publicly claimed a 2006 sexual encounter with Trump. She recently appeared on CBS' "60 Minutes" and claimed Cohen orchestrated a payment to keep her quiet during the election.
David Schwartz, a lawyer for Cohen, said on Wednesday that Trump was unaware of the payment to Daniels or of any underlying hush agreement.
Following the decision, Schwartz told CBS News Radio "He is not surprised at all" about the ruling and said "it was a premature motion."
He calls it a "sound decision" and expects other decisions made by the judge to be "favorable to Mr. Trump."
On Twitter, Avenatti wrote that he will re-file the motion.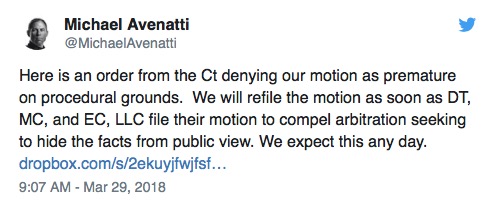 Schwartz says he expects the case to be kicked back to arbitration.