Charles Harder, the attorney who brought down Gawker, files on behalf of Trump to move Stormy Daniels suit to federal court
With President Donald Trump weighing in directly on the Stormy Daniels case for the first time via legal eagle Charles Harder, and a move to federal court looming, Daniels' brash attorney Michael Avenatti continues to lead his client into dangerous ground.
President Donald Trump formally joined his legal team's response to adult film star Stormy Daniels' recent California lawsuit in a motion, filed Friday, to move the case from state court in Los Angeles, where she filed her claim, to federal court.
Attorneys representing President Trump and the company of his personal legal counsel, Michael Cohen, are claiming she could owe in excess of $20 million for violating a nondisclosure agreement.
The move marks the first time attorneys for Trump himself have joined the legal action in the Daniels matter.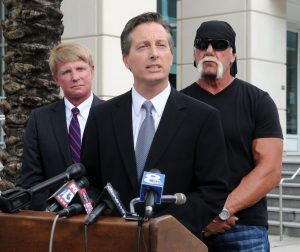 Beverly Hills attorney Charles Harder, the man who took down Gawker with his representation of Hulk Hogan in a devastating Invasion of Privacy suit against the site, is handling the case on the President's behalf.
In 2017, Harder won a multi-million dollar settlement and obtained a full retraction and apology for First Lady Melania Trump, in a libel action against the Daily Mail.
Harder and his colleagues representing Cohen's company, Essential Consultants, LLC, stated in their motion that "EC is aware of at least twenty (20) violations by Clifford of the confidentiality provisions of the Settlement Agreement."
The court filing also mentions that Essential Consultants plans to file a "petition to compel arbitration."
The complaint filed by Daniels' attorney Michael Avenatti in Los Angeles County Superior Court against Trump claims the nondisclosure agreement is not valid because Cohen signed it on behalf of Trump — instead of Trump signing it himself.
In bringing Trump directly into the suit, Harder appeared to be seeking to answer this central challenge from Avenatti,
The terms of the 2016 pact, referred to in the press as the "hush agreement", specifically state that it will be effective if signed by Trump and/or Cohen.
Daniels was paid $130,000 under the terms of the agreement.
Dick measuring time
Michael Avenatti told CNN Saturday morning that Friday was when he first learned that Harder was representing the President. Perhaps he doesn't read the news unless he's grandstanding in it.
Avenatti acted unfazed by Harder and Essential Consultants' plan to move the lawsuit from state to federal court.
"Last year, I had the largest jury verdict in the federal court where Trump et al. removed the case to. It is also one of the largest in the long history of that court," he said in an email. "Thus, we are no strangers to that courthouse."
Some legal observers suggest that Avenatti is basically screaming, "Fuck me, Harder!"
Following the filing on Friday, Avenatti posted a series of tweets about the potential damages, calling the new filing "another bullying tactic from the President and Mr. Cohen."
He also doubled down on his strained strategy of painting his opportunistic client as a heroic whistleblower.
"They are now attempting to remove this case to federal ct in order to increase their chances that the matter will be decided in private arbitration, thus hiding the truth from the public," he tweeted.

He then added: "The fact that a sitting president is pursuing over $20M in bogus 'damages' against a private citizen, who is only trying to tell the public what really happened, is remarkable. Likely unprecedented in our history. We are NOT going away and we will NOT be intimidated."
H/T: CNN-wire / New York Times
I never felt more satisfied or optimistic than when I rode the river in my youth.