And the next porn star arrested is …. Brandi Bae and it's for attempted murder!
Brandi Bae may be new to porn but she's already making quite a name for herself and I don't exactly mean that in a good way.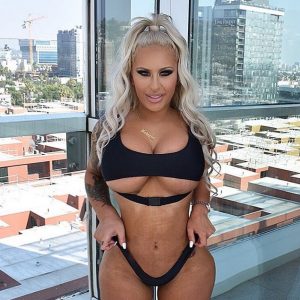 It seems she was recently arrested for stealing a security guard's gun to shoot another porn star on Friday. It seems she was drinking and couldn't handle her liquor. After complaining that she thought the other porn star was prettier, for some reason she then decided to attack her in her sleep. Things only got worse from there.
When Skyla was asleep Brandi Bae hit Skyla. Skyla fought back and the girl ran went to find a security guard, stole his gone and went back to shoot Skyla but that's when the cops showed up and arrested Brandi Bae.
Originally from Sacramento, Brandi Bae was working at Victoria's Secret when she signed with East Coast Talent sometime in 2016.  After a few months, she left them and went to OC Modeling. She wasn't with them for more than 2 months before then going to LA Direct where she didn't last more than a few months.
Next, she signed with Society 15. That didn't last long either and eventually, she ended up singing with Nexxxt Level at the end of April this year but she's apparently no longer with them either. I don't know how long that lasted, but no more than a few months max.
I don't know that I've ever seen a girl who has been in porn for such a short time, go through so many agencies.
East Coast Talent
OC Modeling
LA Direct Models
Society 15
Nexxxt Level
I also searched her twitter account to see what other agents she might have been with but so far haven't found much.
This all just went down a few hours ago so we'll have more on the story as it devolves.
I'm here to give you the 411 about porn stars and in the adult industry as a whole.