Poison Love: Nikki Hearts and Leigh Raven
All your poison love has stained the life's blood
In my heart and soul dear
And I know my life will never be the same
For my pleadings have all been in vain
For you and you alone dear
And you know that you are guilty of the shame
— "Poison Love", words & music by Elmer Laird, ©1950 Hill and Range Songs, Inc.
In the weeks since adult performer Leigh Raven, in a video shot by her wife Nikki Hearts, leveled allegations — charges which were later proved false — of on-set assault and rape, many have looked for answers in the relationship between Hearts and Raven.
Some have speculated that Hearts acted as a sinister Svengali — a claim buttressed by her off-camera prompting of Raven during her video testimony, (Raven claimed on camera that Hearts was interjecting to help her remember things); and the fact that Hearts later turned the camera on herself to talk about an alleged incident she did not witness.
However, after weeks of interviews and analysis, it is now clear that Leigh Raven is the driver and Hearts the weary passenger on a headlong ride toward Fame . . . or Bust.
In recent photos, Hearts — heavy-lidded and sullen — is almost unrecognizable as the cheerful, dare-I-say cherubic character I encountered in Hollywood four years ago.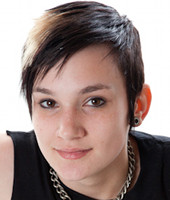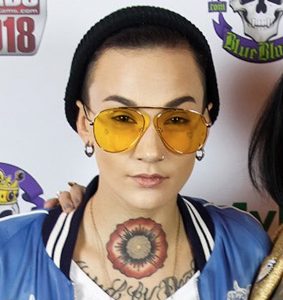 Let me get right to the point:
Leigh Raven is a spectacularly narcissistic young woman who is convinced that she should be a superstar. A cover girl. A household name. A major player.
And this delusion has come at a high price to Nikki Hearts, who is endlessly adoring of Leigh.
The damage began long before Raven trashed her own name, and Nikki's, with false rape and abuse claims.
Hearts had a directing gig with Filly Films. Producing, directing and delivering movies was her business. Then Leigh decided she should be co-director. Everything became about pleasing Leigh.
And soon Hearts' directing gig went bye-bye. And she receded into a haze of blunt smoke.
Dysfunction
In a codependent relationship, two people with dysfunctional personality traits become worse together. It is also known as "relationship addiction" because people with codependency often form or maintain relationships that are one-sided, emotionally destructive and/or abusive.
Co-dependents, it is said,
have good intentions. They try to take care of a person who is experiencing difficulty, but the caretaking becomes compulsive and defeating. Co-dependents often take on a martyr's role and become "benefactors" to an individual in need. A wife may cover for her alcoholic husband; a mother may make excuses for a truant child; or a father may "pull some strings" to keep his child from suffering the consequences of delinquent behavior.

The problem is that these repeated rescue attempts allow the needy individual to continue on a destructive course and to become even more dependent on the unhealthy caretaking of the "benefactor." As this reliance increases, the co-dependent develops a sense of reward and satisfaction from "being needed." When the caretaking becomes compulsive, the co-dependent feels choiceless and helpless in the relationship, but is unable to break away from the cycle of behavior that causes it.
In the needy, demanding Leigh Raven and the selfless caretaker Nikki Hearts, we find a classic codependent structure.
Whatever Leigh says or does, and whatever the cost, Hearts will back her play.
Also, Raven reportedly suffers from lupus and is frequently ill, requiring Hearts to drop everything to care for her. In true codependent fashion, it was a role she once cherished.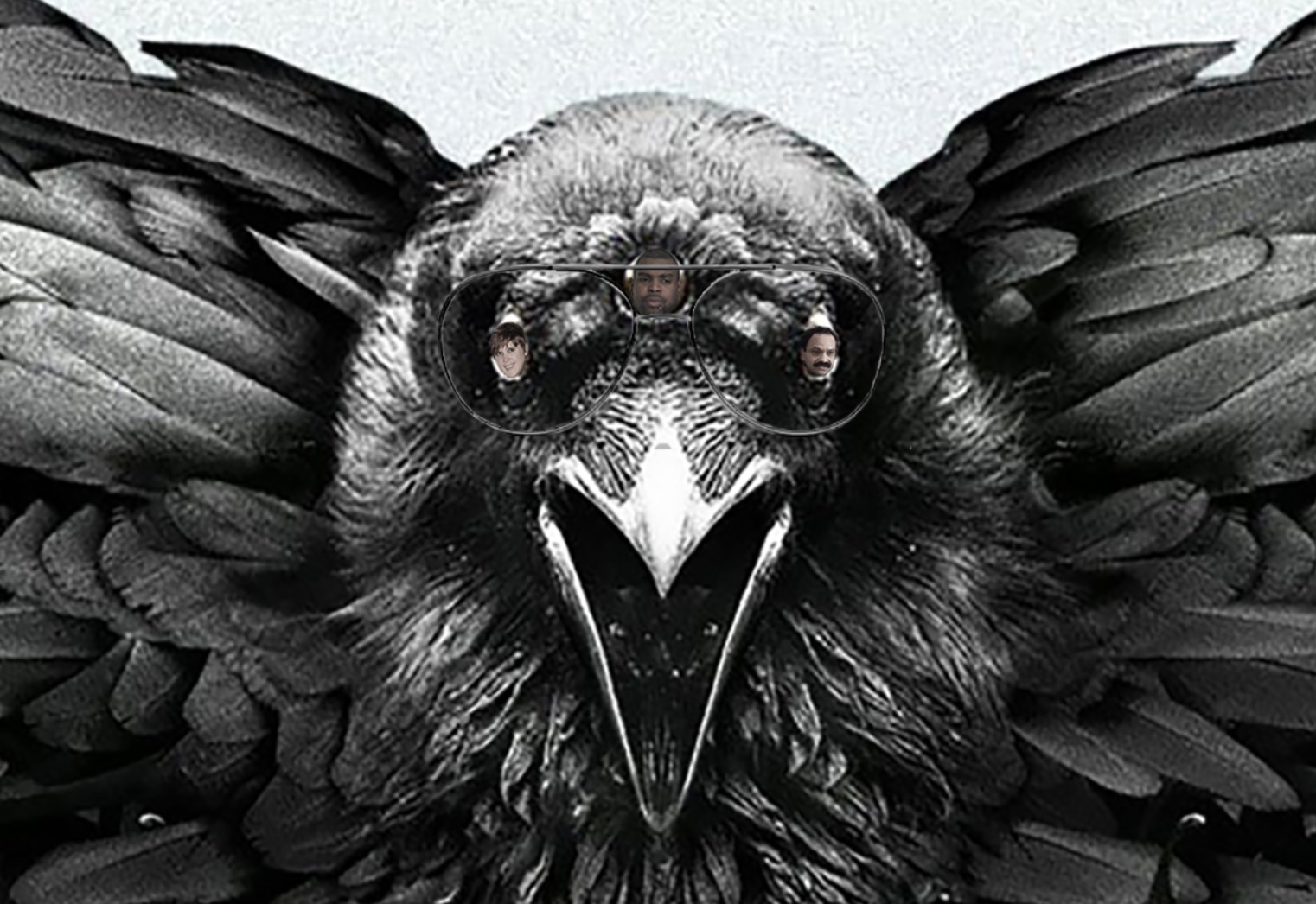 That's So Raven
So, what happened on that set three months ago? We've all seen the video and know that what Leigh claimed happened did not. But what made Leigh say that it did?
To answer that, let's examine Leigh's other claims of abuse.
On April 2, 2017, as that day's appearance at Exxxotica Denver was winding down, Leigh said she was groped by a hotel employee — a young Latino maintenance worker.
After being identified, the man apologized, and was reportedly fired on the spot, but Leigh was not satisfied. She demanded a police report be filed. The man was charged and later convicted.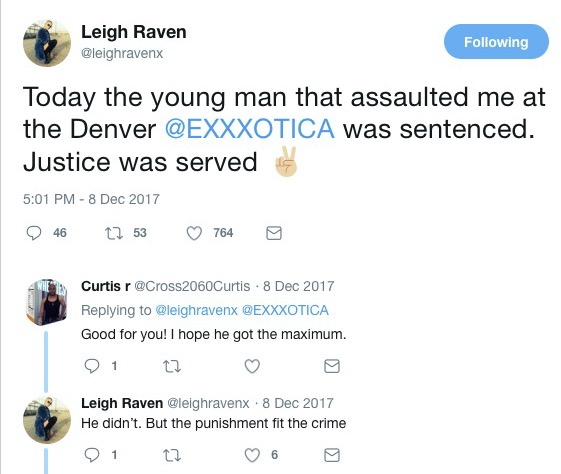 "The punishment fit the crime".
Another individual Leigh went after last year as a "rapist" is 'gold star lesbian' performer Lily Cade, although she offered no details.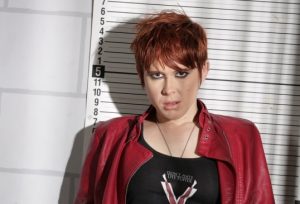 By 2017 Cade had, by her own admission, "gotten lost" in her own persona of the gal who was constantly "aggressively hooking up", and overstepped the boundaries of consent.
She would later write:
I've always hooked up with girls at porn parties and conventions, frequently on camera, in front of witnesses. I did this because I thought it was wanted, and that girls enjoyed it. The cameras enjoyed it, anyway. It was an organic thing at first. I did it before I was even really in porn and was a piece of how I got in. As the years wore on, I started to feel obligated to do it. It was my "thing". The cameras would follow me around and I would get up to my usual hijinks. I tweeted about this. I posted pictures on social media. I didn't conceptualize any of this as assault, or I wouldn't have done it much less promoted it.

I feel ashamed now. I thought that that girls went along with me because they enjoyed it, but they did it because they felt like they couldn't say no. I thought it was all in fun, but it wasn't.
In a very real sense, Cade's was the first scalp of the #MeToo movement in porn.
But, in a sadly crowded field, why was Cade the first target?
She had written in 2014 of the "tendency in queer circles to decide some person (always, always a gay person…) is 'problematic'", noting that identity politics and intersectional social justice battles had "utterly taken over what was once called Dyke porn and is now called Queer porn."
And she was right. The mob, including Raven, went after Lily Cade for the same reason Leigh Raven went after a Mexican American worker: gays and low-status males — particularly men of color — are softer targets.
It's the same reason rapists go after women walking alone or crazed gunmen target schoolyards. Bullies and abusers don't like to test themselves; they want the easy target.
Which brings us to Rico Strong.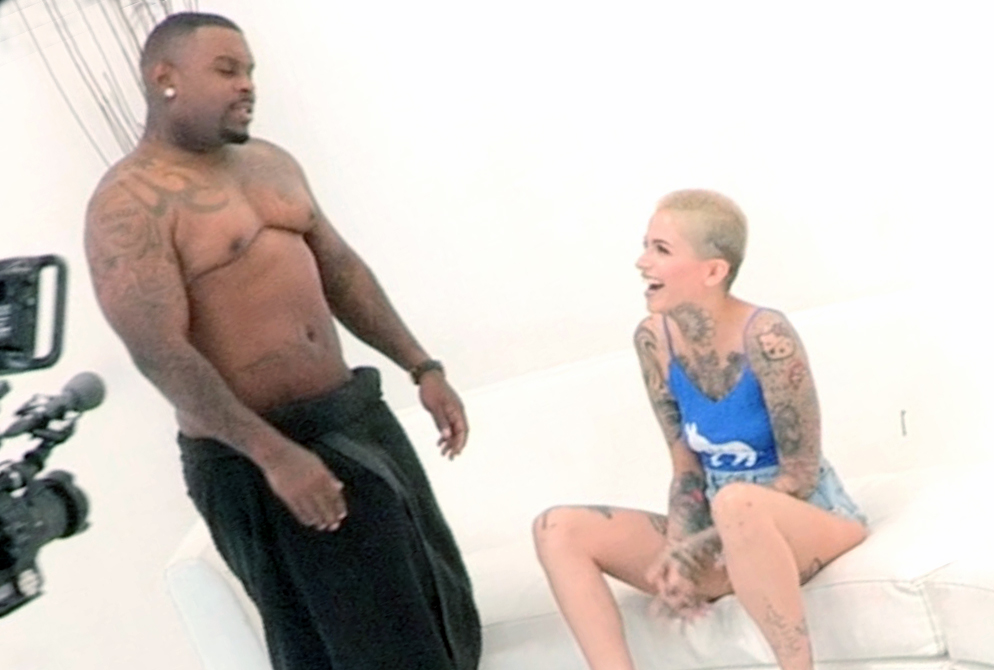 Leigh accepts a last-minute shoot, but unlike the on-screen work she does for Hearts, who is obsessed with making her happy, and making her a star, in this scene she was a punchline. She was not glorified, she came to realize. She was not celebrated.
Unlike her (more brutal) blowbang scene, also shot by Hearts (for NikkiAndLeigh.com, of course), she was not the above-the-title star. She was not in control. She was just another girl in just another rough sex scene.
At some point her dissatisfaction morphed into something else. It became anger. The scene was an affront. It became a rape.
And with a man of color as the alleged abuser, her charges fed into a host of dark stereotypes. Moreover, Rico did not have the capital of stardom or a privileged producer position in the industry to easily swat away such an allegation. Another low status male takes a sucker punch.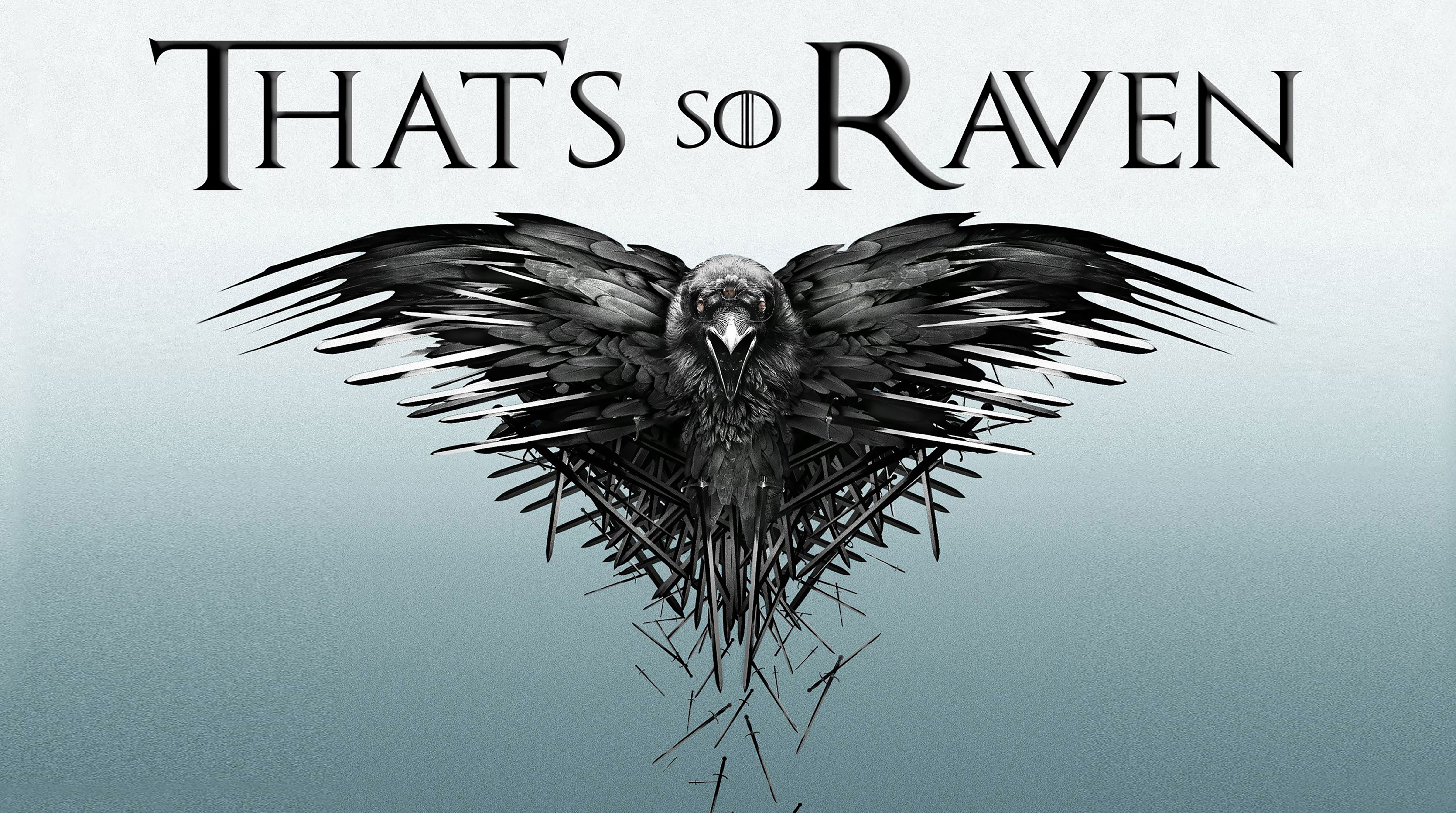 What was Nikki to do? She loves and supports Leigh. She would do anything for her.
She made a video. She even went on camera herself to talk about an alleged incident where she was not present. This had no value except as a symbolic act of love and support.
In this way, I now see Nikki as a tragic figure, like the vigilante husband in the first-ever episode of Alfred Hitchcock Presents, "Revenge", who kills in cold blood the man his wife claims assaulted her.
"That's him."
Since Leigh's on-set assault story was all a lie, Leigh could not answer questions about it. So the strategy became one of defiant claims of victimhood — she would not answer questions about it for to do so would constitute "re-victimizing" her. It was a rape simply because Leigh said it was, and because Hearts, who knew her better than anyone, agreed.
So, Hearts backed Leigh in prefab statements on social media. An example: Hearts admitted that the nanny cam video of the shoot is exculpatory on its face, but said that doesn't matter.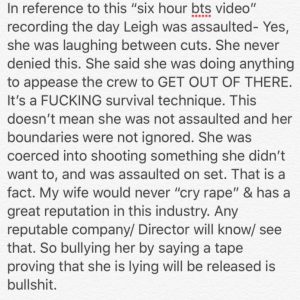 I can only imagine weary Nikki's dread, knowing that the house of cards would inevitably fall.
Pieces
Nothing turns out half-right now it seems
There ain't nothing in my pocket
But three nickels and a dime
But I'm holding to this handful of dreams
— "Things Have Gone to Pieces", words & music by Leon Payne © 1960 Acuff Rose Music
The financial consequences of Leigh and Nikki's ill-fated romance have been devastating. The couple have alluded to this on social media, but it's actually worse than they let on.
They had been renting their house for porn shoots, but honestly, if you were an adult producer, would you risk shooting at the house of a woman who filed a police report AND a Cal/OSHA complaint about a fake rape and assault?

(Maybe it's just a coincidence, but the phrasing and the use of "shit situation" is reminiscent of Raven's Exotica Denver tweet. Is Leigh Raven doing the tweeting?)

Leigh can be found on Trinity St. Clair's low end (not to mention, risky) escort site.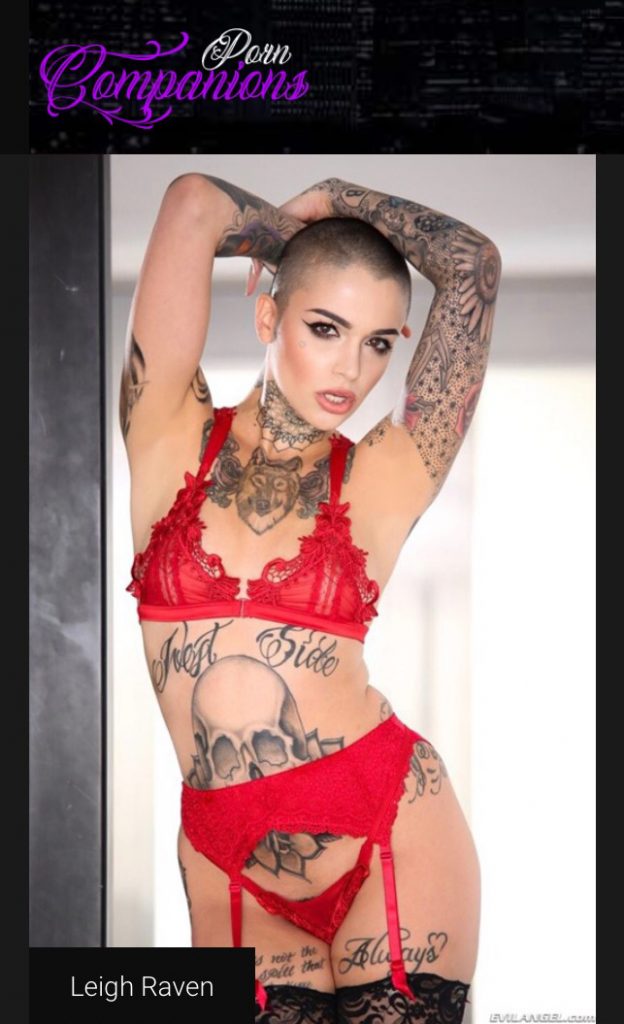 Superstar indeed.
The question now becomes: how far will this go and for how much longer? Last year the couple gave up their dog (or sold it) to their weed dealer, and ties are much tighter now. There was a recent car wreck. . .
Leigh is still traveling full speed ahead as victim-star, but there's substantial pushback, as evidenced by this tweet from Mallory Maneater.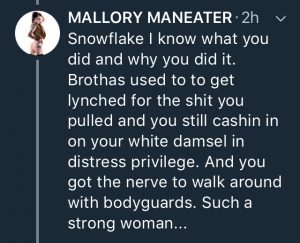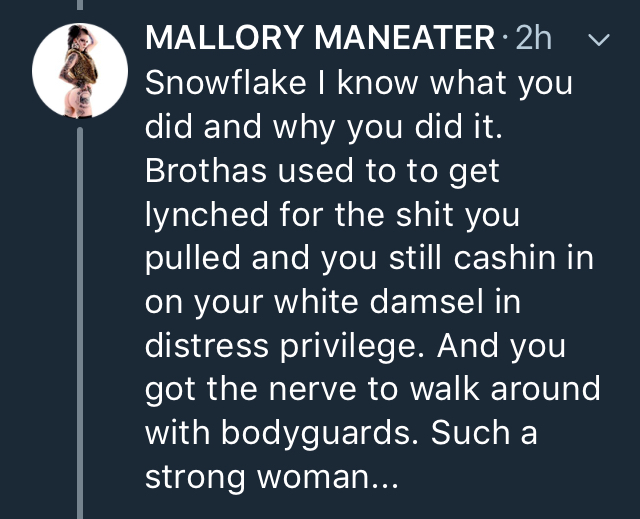 How many friends and business opportunities will be lost before either Nikki or Leigh has the nerve to pull the trigger on their poison love?