News Roundup – 17 November 2017
17 November 2017
This has been quite a hectic week:  sexual harassment awareness, Weinsteining and the #MeToo campaign hit Pornoland big time on Wednesday, with a Rolling Stone report on alleged sexual improprieties by porn legend Ron Jeremy. The embattled hedgehog is currently appearing at Sexpo in Melbourne, but other media outlets have picked up the story.
Then, last night, Mr. Marcus got kicked out of the AVN Awards nominations party for allegedly sexually harassing porn star Tasha Reign.
The keen-eyed may have also noticed these odds and ends:
The infamous 35-page 'dossier' that fueled investigations into the Donald Trump campaign's alleged Russian ties has yielded another intrigue, on its very last page. As reported online:
It's the accusation that a company called XBT and its U.S. subsidiary Webzilla hacked the emails of Democratic Party leaders.
"[O]ver the period March-September 2016 a company called XBT/Webzilla and its affiliates had been using botnets and porn traffic to transmit viruses, plant bugs, steal data and conduct 'altering operations'" against them, according to the dossier, which was prepared by a former British spy who specialized in Russia.
XBT and web-hosting company Webzilla, while not well known to the American public, have long been the targets of lawyers who fight Internet piracy. They have claimed, in several lawsuits and submissions to regulators, that Webzilla looks the other way while its customers flagrantly steal copyrighted materials…. 
Indeed, Webzilla employees were linked through litigation and regulatory filings to two companies accused of large-scale copyright violations involving Hollywood movies and subscription pornography. Pirated pornography is often baited with malware that can affect users' computers in various ways.
And then there's this story, which reminds me of a gag in the Austin Powers movies:
US Navy Admits Its Aircraft Drew Lewd Images in Sky
Residents of Okanogan, Washington saw male genitalia being drawn in the skies above their town by a jet aircraft around noon Thursday.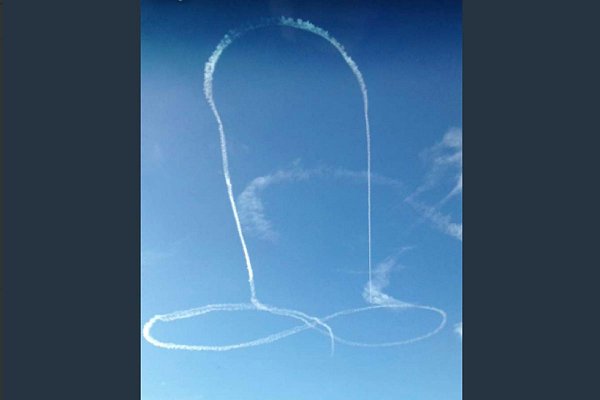 Military.com
 reports that "According to TV news station KREM 2,
Naval Air Station Whidbey Island
has claimed responsibility for the drawing, telling the station in an email that it finds "this absolutely unacceptable, of zero training value and we are holding the crew accountable."
Ramone Duran said he was running errands when he looked up and saw what he thought looked like the start of someone trying to draw a male member with jet contrails.
About five minutes later, Duran said, the drawing was complete.
"After it made the circles at the bottom, I knew what it was and started laughing," Duran said. "It was pretty funny to see that. You don't expect to see something like that."