MindGeek Steps Up to Solve UK Age Verification Dilemma with AgeID
The porn giant proposes its hi-tech AgeID system as a solution for the UK Internet Age Verification mandate
Beginning in April, the UK's controversial Digital Economy Act shall require anyone wishing to view pornography online to prove they are at least 18 years old. The new law makes the UK the first democratic country in the world to require users to prove their age to view pornographic content. The British Board of Film Classification has been designated as the regulator for age verification but has not yet been confirmed by Parliament.
The mechanism for age verification, however, is being left to the private sector. Among those developing solutions is MindGeek, which, although best known as the owner of some of the most viewed pornography sites in the world, including Brazzers, PornHub, YouPorn and RedTube, is also recognized as a leader in 'Web Design, IT, Web Development and SEO [search engine optimization]'.
MindGeek anticipates signing up 25 million users in the UK to its age verification system, AgeID.
The system will require users to sign up with an email address and password, then use a third party mechanism to prove they're at least 18.  The user will then use AgeID to access pornographic sites around the web; AgeID will log which sites are visited.
As is customary in the tech world, the porn giant, which has outlaid monies to develop the system, will charge other porn sites to use AgeID.  With MindGeek's market muscle behind it, AgeID could well end up the de facto age verification standard online.
A spokesperson for MindGeek told Sky News: "AgeID has been built from the ground up with data protection, data minimization and the principles of privacy by design at its core, whilst also complying with the GDPR."
"This is why we do not store any personal data entered during the age verification process," MindGeek added. "Due to the encrypted nature of AgeID's login credentials, such data cannot be exposed in the unlikely event of a hack."
Although AgeID's privacy policy notes that user information can be used by AgeID "to develop and display content and advertising tailored to your interests on our Website and other sites", MindGeek has affirmed to Sky News that it will not snoop on the sexual preferences of AgeID users.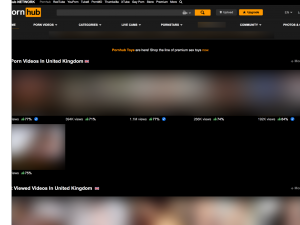 This month the Department of Digital, Media, Culture and Sport laid out its guidance for age verification solutions. It did not suggest requirements for people's identity not to be tracked across the internet, merely suggesting it should be "good practice".
The DCMS has stated, "A wide variety of online age verification arrangements currently exist and so we expect that providers of online pornography will be able to choose the appropriate solution to meet their specific needs."  MindGeek is banking on AgeID to serve the needs of the online porn industry,
I never felt more satisfied or optimistic than when I rode the river in my youth.