Karmen Karma @KarmenKarma takes a stand and maybe we all need to think about the #facts behind her decision
For years many performers had to quietly put certain known crossovers on their no list and not tell anyone why. They had to be so hush hush about it because they were bullied by the PC police for not being politically correct.
A year ago August Ames took a stand and went public with her belief that it's her body and as such her right to decide if she wants to have sex with a gay man or not. She decided that for her, it just wasn't worth the added risk to having sex with a gay male crossover and for her decision to speak openly and honestly about her right to chose she was brutally bullied. As we all known now, she ended up taking her own life.
August Ames would have celebrated her 24th birthday this month. Instead her husband, Kevin Moore flew her ashes home to Canada, her final resting place.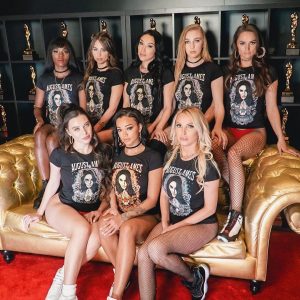 Now here we are again, less than a year after her death, having this very same conversation. Only this time it's because twice this year a crossover has tested positive for HIV.
Karmen Karmer (@KarmenKarma) has taken to twitter to take her own stand.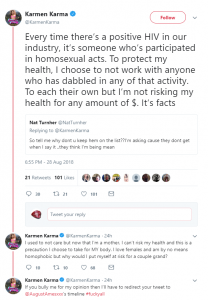 So also wanted to make it clear that you don't have to agree with her but she won't be bullied into changing her mind either.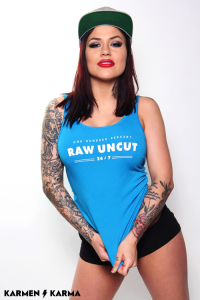 Not working with a crossover male performer isn't about hating on gays, it's about negating risk.  You can support the gay community all day long and still not want to have sex with a gay guy.
That's okay to feel that way. Having others hate on you for feeling that way is their problem, not yours. You do not have to justify why you don't want to have sex with a gay guy. Them telling you that your feelings about your body are wrong, and only shows what kind of people they are.
What kind of person would try and force you to have sex with someone you don't want to just because you don't want to hurt their feelings? How stupid is that?
How is that even logical?
Oh no, how dare you say you don't want to have sex with a gay guy?!?!?! That stigmatizes him. You better take that back!
In case you aren't familiar with exactly what we are talking about, any male talent who also does gay porn is called a crossover and many female porn stars automatically put all crossovers on their no list for their own safety and well being. They consider their health more important than that.
They aren't judging a guy for being gay. What he does with his body is his decision. What they are simply saying is, I personally do not want to have sex with a gay guy. It shouldn't matter why, it's my body, my decision.
But if you want to know the facts …. let's talk science. These are facts that were taken from the CDC website this year, not in the 1990s as some will have you believe.
Men who practice unprotected anal intercourse are at higher risk of contracting HIV.
Most gay porn is done bareback. That's unprotected anal intercourse.
Gay and bisexual men are more severely affected by HIV than any other group in the United States. 1 in 6 gay or bi-sexual men will be diagnosed with HIV in their lifetime. This means, even if you support a man's right to chose who he wants to be with (in other words support a gay man's right to be gay), it doesn't change the fact that he's in a higher risk category for contracting HIV.
A much higher proportion of gay and bisexual men are living with HIV compared to any other group in the United States. Therefore gay and bisexual men have an increased chance of having an HIV-positive partner.
1 in 6 gay and bisexual men living with HIV are unaware they have it.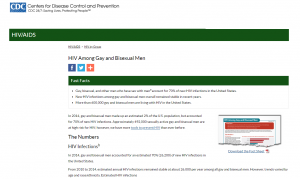 To lessen your risk of contracting HIV, any expert will tell you to avoid risky behavior which includes having unprotected sex with gay men.
How is this concept complicated?
This isn't a judgment on a man's lifestyle. It's simply a decision someone makes to lessen their risk of contracting HIV by avoiding sexual relations with those who are at a higher risk for contracting HIV.
Hello, my name is Kelli Roberts. I am a published author, AVN nominated producer, and webmaster who has worked in the adult industry since August of 1996.