Hey Jezebel: Leigh Raven, Nikki Hearts & Riley Nixon still work with James Deen
Intellectual honesty and consistency are not the strong suits of hyperbolic Jezebel propagandist Tracy Clark-Flory

The latest 'mainstream het porn is bad' jeremiad from San Francisco-based Jezebel scribe Tracy Clark-Flory was published this morning, and — unsurprisingly — it's yet another #MeToo rehash of old claims about various straight male mainstream porn performers and directors.
There's little need to address the specifics of the various claims, as we've done so many times before, when they were fresh. We have also previously excoriated the desperate Ms. Clark-Flory for her hollow arguments, reliance on tissue-thin evidence, ideological bias, cowardice and general idiocy.
However, a couple of Ms. Clark-Flory's arguments published today are so vacuous and fatuous, they cry out for mockery.
The first relates to adult star Nikki Benz and her lawsuit against MindGeek over claims of on-set abuse.
Beginning on December 20, 2016, Benz wrote that she had been sexually assaulted during a December 19 "rough sex" shoot directed by Tony T. and co-starring Ramon Nomar. In January 2017,  T. and  Nomar filed a defamation action against her in Los Angeles Superior Court stemming from the allegations Benz made via Twitter.
Nomar later dropped out of the action, and then Benz took to Twitter again to make more claims. (SPOILER: Benz painted herself as a victim, and the self-appointed avatar of wronged performers — Fight the Power!)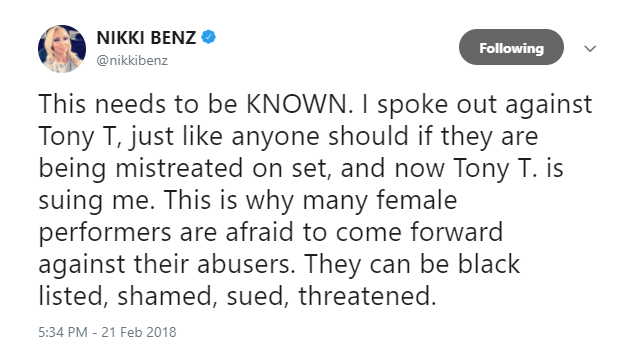 Video of the scene was screened for members of the industry on January 11, 2017, and the consensus view was that it was a rough scene — i.e. a rough sex scenario was enacted — but there was no rape.
In May, Benz filed an Anti-SLAPP Motion to Strike Tony T.'s complaint, claiming that his defamation lawsuit was baseless and merely an attempt to silence her and punish her for speaking out. Her motion in the case case constituted the equivalent of an Anti-SLAPP lawsuit.
However, in July 2017, Los Angeles Superior Court Judge Delilah Lyons denied Benz's motions to strike T,'s defamation suit, allowing the case against her to proceed.
Of Benz, Clark-Flory writes at Jezebel,
Benz says that the damage to her career largely results from speaking out against Brazzers, which is owned by the monopolistic MindGeek, which controls great swaths of the adult industry—including top tube sites like Pornhub and YouPorn, as well as popular producers like Digital Playground and Reality Kings. "It's a silent blackball. They won't work with me," she said. "It went from me getting phone calls every week from one of their companies to me getting nothing." (A MindGeek spokesperson told Jezebel, "This matter is currently before the courts. As a policy, we do not comment on ongoing litigation.")

Does anyone really think Mindgeek would — or should — hire someone who is suing them? Seriously? This may be the stupidest thing I've ever read. The person who is suing a company is upset that they won't hire her now? If her claim is valid she should be expecting a huge settlement, so this "blackball" won't matter. In any case, the "blackball" doesn't seem to have negatively affected Benz's world travel schedule, but I digress.
It gets better
The second bit of Flory faux-logic relates to male adult film star James Deen.
Deen is the primary focus of Flory's very long piece, which begins and ends with references to him (but neglects to mention the now discredited, demonstrably false charges made against him by several performers — I guess those don't matter to Ms. Clark-Flory).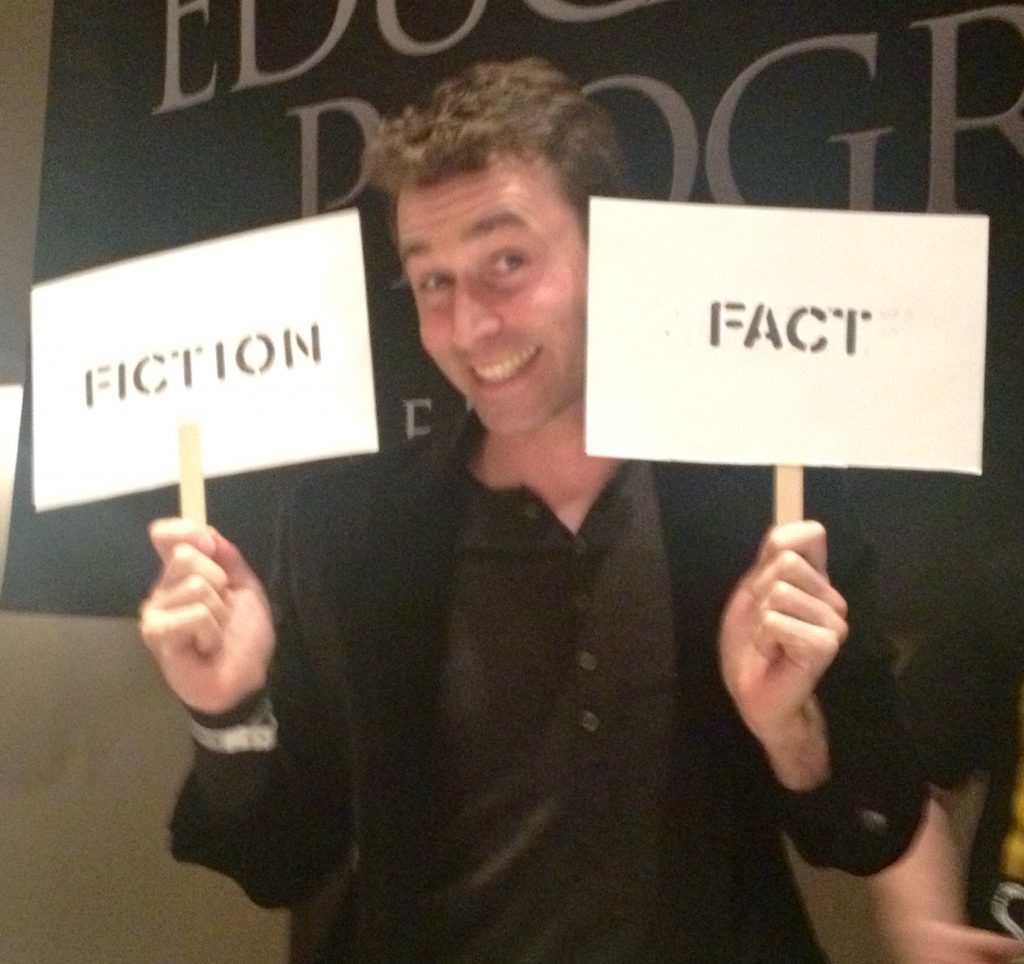 Clark-Flory's article lionizes marginal adult performer and false rape accuser Leigh Raven, her wife Nikki Hearts, and on-set abuse claimant Riley Nixon as brave and heroic social justice advocates for "detailing allegations" about director Just Dave and black performer Rico Strong with whom Raven and Nixon worked for BlackPayback.com.
Pause for a moment to consider that bit of rhetoric: "detailing allegations". They detailed — provided specifics about — allegations. Unproven (and in fact, in the case of Raven and Hearts, clearly disproven by video evidence) charges. Claims.
A detailed, filigreed allegation is no more true than the barest one, and in fact may be less credible, as in the case of elaborate lies.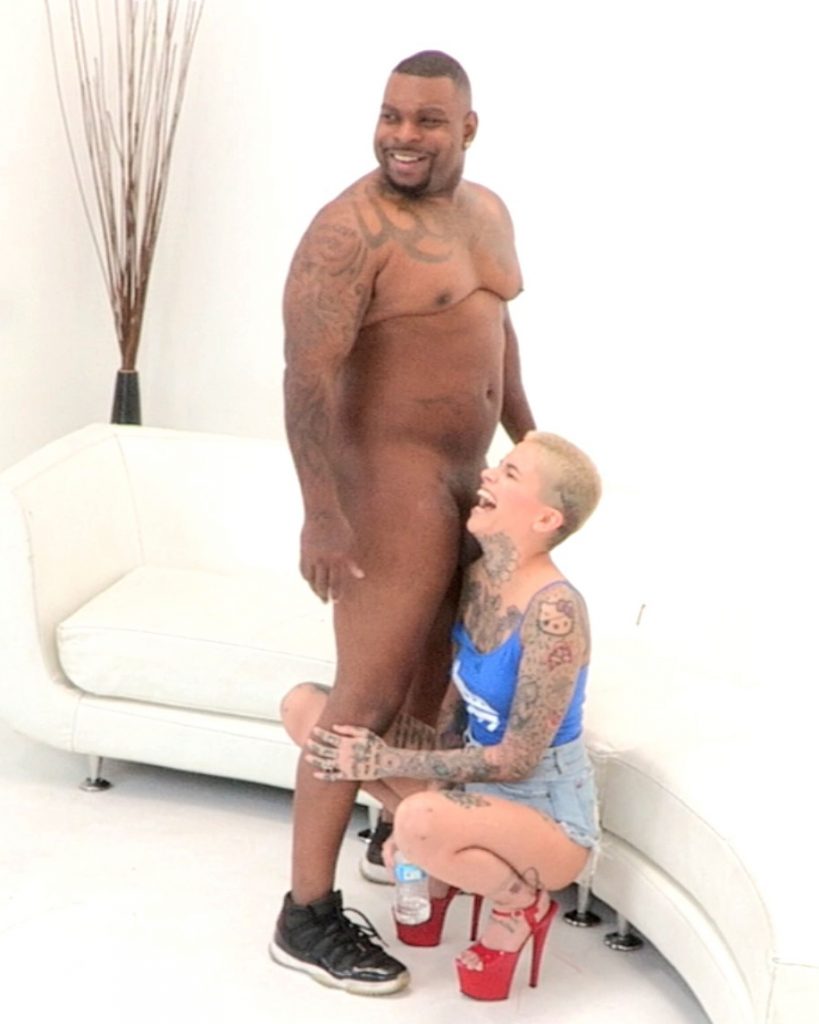 Clark-Flory's rehash of the Raven/Hearts/Nixon drama begins,
in March, with the mainstream #MeToo movement in full swing, performers Leigh Raven and Riley Nixon published a more than hour-long YouTube video detailing allegations of abuse during two different porn shoots with director Just Dave and the performer Rico Strong. The accusations included misleading booking practices, excessive face-slapping and strangling, and boundary violations. "I didn't know what could happen to me," said Raven, explaining why she didn't just walk off the set that day. "I was in a warehouse, it was nighttime, there were multiple men on set, it was just me, I didn't have a car." Raven, who reported the alleged incident to police, added, "I just said to myself, 'Let's just get this over with.'"
Notice Clark-Flory does not mention the most severe of the charges made by Raven and Hearts, as described in the to their YouTube video: "Trigger warning, this video describes violent acts of sexual assault." Obviously it's because they did not hold water, so Clark-Flory has moved the goalpost.
The Jezebel article continues:
Just recently—more than six months after the accusations first surfaced—footage from the shoots in question was published by Black Payback, a porn site built around the idea of black men exacting sexual revenge for racism on white women. The footage is accompanied by mocking commentary about the women's accusations.

The clip featuring footage from Raven's shoot, which was published by Black Payback on its Pornhub channel, begins with a moment from her YouTube video in which she says, "Hi, my name is Leigh Raven and I am—." Then it cuts to a clip of Henry Rollins screaming, "a liar" from his music video for Liar. The video proceeds to show the Wikipedia page for "pathological lying" before eventually cutting to a clip of Raven gagging on Strong's penis during the shoot in question. Later, interspersed between derisive commentary and clips from her YouTube video, Raven is shown multiple times throwing up from deep throating.

Currently, the profile picture for the Black Payback Twitter profile is a closeup of Raven's face with Strong's fingers down her throat.

The video description for Nixon's scene, which was published on Black Payback's site, reads, "This Cabbage Patch lookin voluptuous Becky, man we luv her fat ass n' titties but she need to watch her lip n' think before she speak. Typical wyte woman wit no accountability for her actions, say she don't like our set yet refuse speak up n' cashin da check still, white devil trickster." Part of the premise for her scene is that she's a feminist—footage of an actual protest with women holding signs reading, "TOGETHER WE CAN END MALE VIOLENCE," is included at the beginning of the trailer. Strong is shown asking her, "What has feminism done for black people?" As she starts to respond, Strong slaps Nixon across the face.

There is engaging in the rich world of fantasy and forbidden taboos—including depicting faux abuse—but it seems another thing to publish footage of alleged abuse, along with mocking commentary about the accusers.
Of course it seems like "another thing" to Tracy Clark-Flory! (Here's a link to the Leigh Raven video she references.) But let's think about this: if a producer cannot publish (and recoup costs for) a shoot which was the subject of FALSE AND DISCREDITED ALLEGATIONS, then every producer would be held hostage by a talent's after-the-fact regret. False accusers would be granted a privileged position. Vindication by the justice system would be a pyrrhic victory.
It is both stupid and insidious to permit an accusation alone to hurt a person or business, and it is doubly stupid for Clark-Flory to suggest this in the very article which allows Nikki Benz and cash Reign to weep about alleged retaliation against them by those who have accused them of lying.
In this case, as Clark-Flory is forced to acknowledge, no charges were even filed against anyone in connection with Leigh Raven's Black Payback shoot. In the era of #MeToo, after evaluating all the evidence presented, a female police detective decided she did not not even need to interview the man Leigh Raven had accused of sexual assault. And on April 18, the D.A. rejected the case based on the lack of evidence that a crime had been committed.
Back to Jezebel:
Raven and Nixon did not respond to Jezebel's requests for comment. But Raven has, on multiple occasions, said that the accusations resulted in lost jobs for her, as well as and her wife, Nikki Hearts, who filmed the YouTube video. In April, she tweeted, "Really sad that since @NikkiHeartsx @RileyNixon_ and myself dropped our YouTube video describing our horrible experiences on an abusive set… we are struggling for consistent work."

In this case, it appears that the accused performer has also seen a hit to his career. Strong says that he was out of work for six months following the release of the YouTube video, and that it is still hard to find work. It's worth noting that Strong is black, and black male performers are often relegated to "interracial" porn and treated as an ultimate taboo for white women performers. That is to say, Strong doesn't have anything like the privilege or range of opportunity of a performer like Deen.

But Strong seems to see himself as a victim of the #MeToo moment. "Having my name lied on and tarnished people will always side with women especially with everything going on in the mainstream media," he wrote in an email to Jezebel. Just Dave . . . did not respond to a request for comment, but he appears, via Twitter, to be shooting for Black Payback, as well as the site Facial Abuse.

Raven reported her allegations to police, but the Los Angeles District Attorney's office declined to file charges. She considered a civil suit, but ultimately decided against it, telling AVN, "I had many attorneys hear my story and offer to take my case because they firmly believed I have one… but I don't want money," she said. "I want people like Just Dave removed from the porn community."
Now, we have previously addressed why Leigh Raven "ultimately decided against" suing, but this brings me to the crux of my final point:
Clark-Flory devotes the bulk of her article to characterizing James Deen as abusive, and lionizing Leigh Raven, Nikki Hearts and Riley Nixon as women who bravely stand up to abusers — even against their own financial and career interests. (Performer Lily LaBeau is also patted on the back for refusing to appear in the same movie as Deen, even though they would not be working together.)
Then why do Raven, Hearts and Nixon work for and with James Deen so much?
Deen owns Analized. Here we see Nikki Hearts AND Leigh Raven in a scene with Deen from 2018 — long after "detailed allegations" against him were published by people like Clark-Flory — in a scene called "Nikki Hearts Gets Analyzed".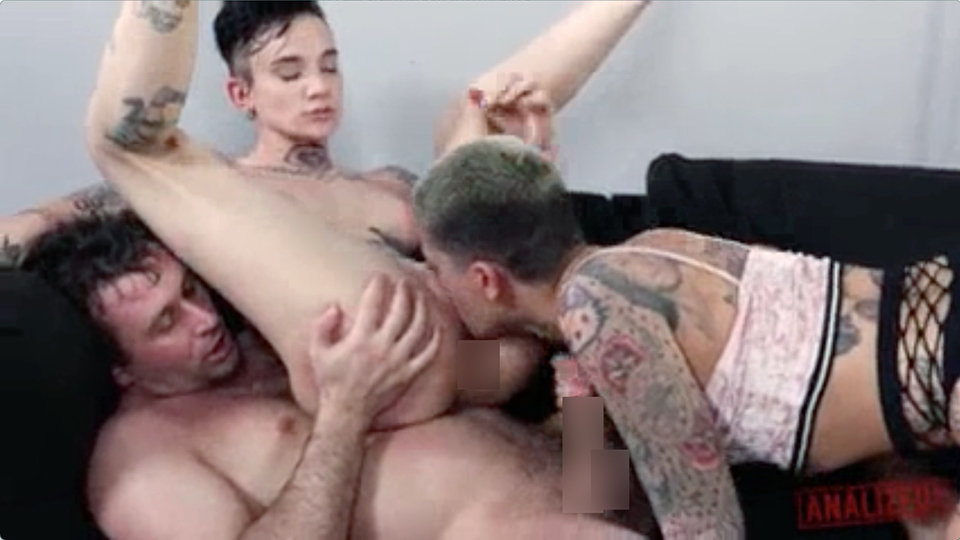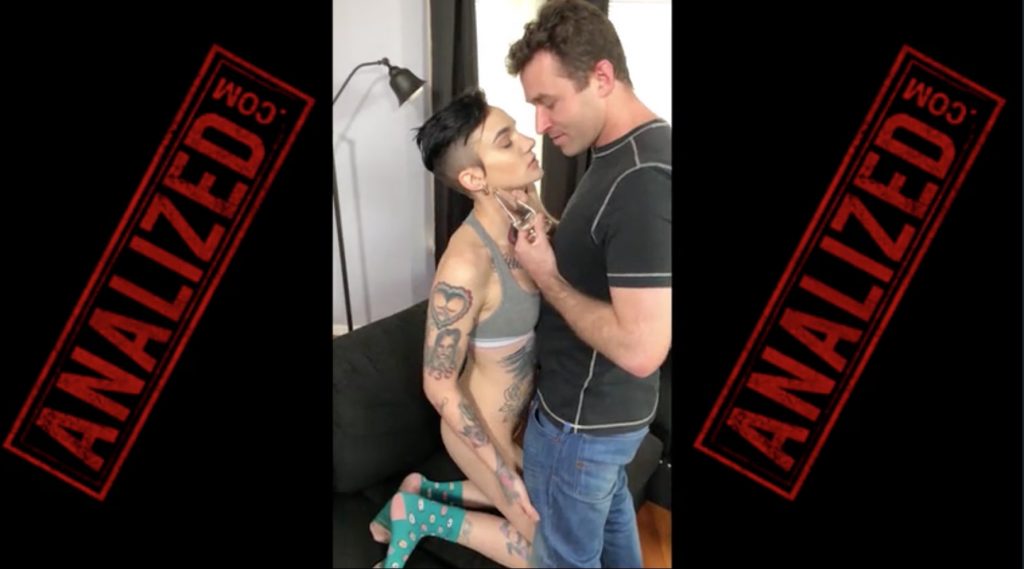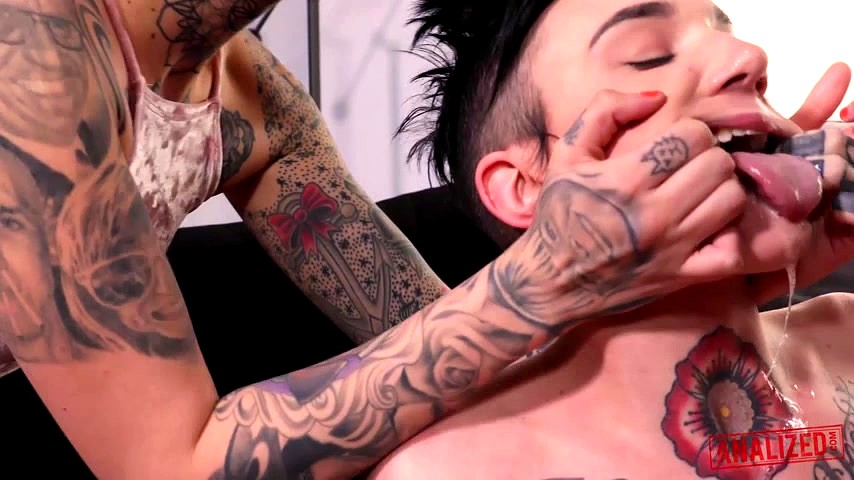 Interestingly, the scene is (as the title suggests) one starring Nikki Hearts, but it appears Leigh Raven couldn't help but hog the spotlight by jumping in. I am Jack's complete lack of surprise.
Leigh Raven also appears in this movie with Deen although she does not work with him.
Not to mention, in 2017 Nikki Hearts performed her first double anal for BurningAngel with the great Steve Holmes and Ramon Nomar (the male performer named in Nikki Benz's "detailed allegations" from 2016).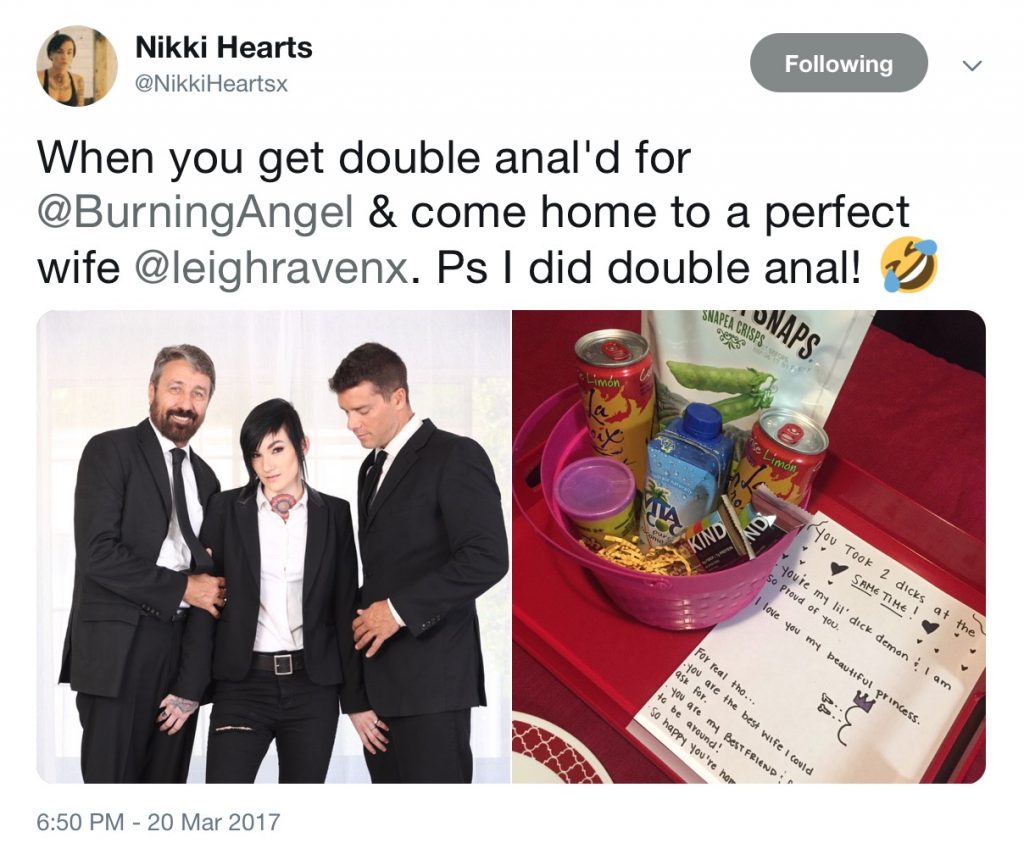 Now don't give me that "MindGeek-dominated oppressive corporations applied financial coercion to make these women capitulate" malarkey — BurningAngel is owned by adult film star Joanna Angel.
Riley Nixon has worked with Deen for Analized several times between 2016 and 2018, before she was fired from a Penthouse set for being out of shape.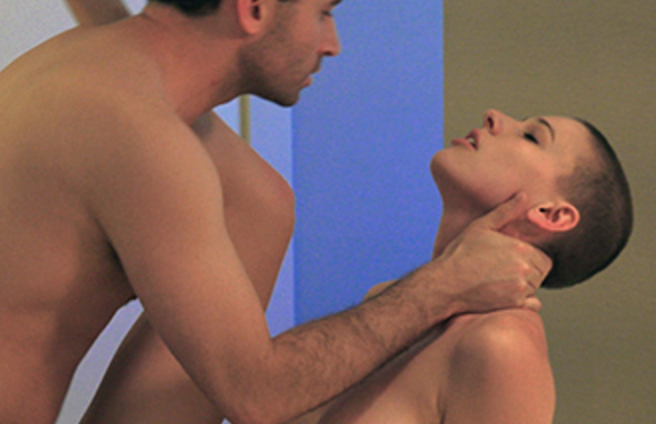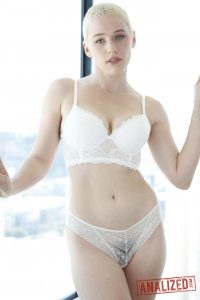 I don't know, Ms. Clark-Flory. . . Don't these facts (a word with which you have only a passing acquaintanceship, I am aware) make Leigh Raven, Nikki Hearts and Riley Nixon traitors who are collaborating with the white cis-male hetero-normative kyriarchy?
Readers, please post your thoughts and comments below.
I never felt more satisfied or optimistic than when I rode the river in my youth.