Former Porn Star Mia Khalifa is NOT HIV positive. It was just a joke. #calmdown
Before we get started let me say this one thing loud and clearly, so there is no confusion —
Mia Khalifa is
not

HIV positive!

Today we learned once again that hate knows no bounds. While Mia Khalifa probably did not have the best timing with her joke, it was still obvious to anyone who has ever seen South Park that what she tweeted was a joke. First, let's look at the clip of the episode in question.

So here is what happened … Mia Khalifa (@miakhalifa) replied to a tweet to Rachel Ray who tweeted "Lying about a terminal illness to cut a line. Are you sure you want that kind of karma?". In response, Mia Khalifa said "I'm not just sure. I'm HIV positive.
Again, what she was saying was clearly a joke. But taken out of context, people started to freak out.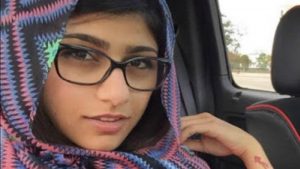 Then came the hate but the Muslims. I got a news alert about Mia Khalifa from the Somali Spot, a Muslim message board.
Mia Khalifa (Famous Arab Porn Star & Porn Hub's 1) is HIV+

Somali Spot

Oh boy. The sheer irony of this situation.
She disgraced and fled from her family and friends convinced she was living her life the way she wanted to, only to catch HIV in doing so.
Well, she should have seen this coming.
If that wasn't enough, another man on the boards said this, "She deserves it that whore makes porn videos while she is wearing the hijab".

The next guy asked, "Muslim? Arab? Porn-star? Still alive?…. Que?"
How sick is that shit? What is wrong with these people? To judge someone else is bad enough but to wish death upon them? WTF kind of people are these?
She, however, defends her right to joke about whatever she wants. In fact, her response to Maxim Magazine, who called her tweet "tasteless" was perfection.
Yeah… I'm tasteless for having a sense of humor while getting berated with wishes of a fast HIV fueled death all day. Sure, @MaximMag.
To make matters worse, a fake interview has surfaced on a fake news site, which again talked about her and HIV. Mia Khalifa had this to say regarding that incident.
The site that posted this incredibly fake "interview" with me is less credible than those ads on porn sites for hot girls in your area who are dying to meet you. I'm not sure what they have to gain from this bullshit other than publicity, but they definitely got that. I wasn't even going to make a statement acknowledging this trash, but because it has gotten so much exposure, it feels necessary.

I don't usually let mean-spirited things about me on the internet get under my skin. That's a skill I've had to develop over time. But I'd be lying if I said this didn't hurt me. It has gotten to the point where people who are actually close to me started texting and asking if this shit was true – and that's what hurts the most. I've gotten used to being bashed, but a person can only take so much.

In case it isn't clear already: no, I am not HIV positive. I get laid way less often than you'd think. The closest thing to intimacy in my life right now is when my roommate is washing her sheets and sleeps in my bed with me.
 Let's spread some love, not hate, my friends!
Hello, my name is Kelli Roberts. I am a published author, AVN nominated producer, and webmaster who has worked in the adult industry since August of 1996.