The adult industry is on a 4 day moratorium due to possible HIV exposure
The FSC is calling for a production hold after someone in the industry tested positive for HIV. I am told this person is for sure HIV positive, it is not a false positive. They are sure but I also hear this is a performer who doesn't really shoot a lot but does do more than a few content trades and that is really where the major concern is.
This person whoever it may be has apparently done quite a few "trades" for his (or her) Many Vids store.
We are in a precautionary production hold – aka a moratorium.

DO NOT DO CONTENT TRADES AT THIS TIME

! Be smart. 
The FSC is gathering names both first and second generation. Actually, the FSC already has the first generation names and they have all been tested or will be probably by the end of the day.
They are now working on the second generation list which I am told includes both on and off set names.
This is where I give Eric from the FSC a lot of props. Unlike his predecessor at the FSC, he takes this shit serious and makes sure everyone involved gets tested, not just those who have filmed a scene in the last 30 days.  Eric Paul Leue, the new executive director of the FSC is working hard to get every name of every person that came in sexual contact with the person who tested positive gets tested and so does every person they had sex with.
If after gathering the second generation names they find there is no evidence of additional risk, as those names will be tested over the weekend, then everyone should be able to go back to work on Monday.
A moratorium is a big deal. It's done for your safety. Please take this moratorium serious. Please film any scenes, professionally or even content trades during this time. Avoid sexual contact until we get further details of who may have been exposed either directly or indirectly.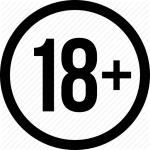 Bringing you all the insider information from the xxx industry.