PornHub announces the PornHub Awards
PornHub's 85 million visitors watch more than 5 million videos every day. If you are doing that math, that's more than 59,000 visitors per minute, every single minute of every single day.
Alexa ranks PornHub as the 34th most popular website in the world.
So it's only fitting PornHub hosts their own awards show not unlike the annual AVN and XBIZ awards.
"We have tabulated hundreds of billions of data points to know what was not only watched but enjoyed, re-watched, shared, discussed and ultimately, provided the most entertainment to our audience. From that, we invite our community to share in choosing the very best of the best, and we will be recognizing those true winners with an amazing night."
Even more interesting, the 2018 PornHub Awards Show will be lived streamed in 3D 360-virtual reality. They'll also be inviting users to interact with through a virtual world, some may already be familiar with, called Utherverse.
Utherverse is sort of like World of Warcraft for porn. Basically, you create your own avatar and log into the game where you can interact with others who are also in the game at the time.
The PornHub awards show is scheduled to take place in September.
You can, however, visit the Utherverse now and set up your account in preparation of what is no doubt going to be a huge event.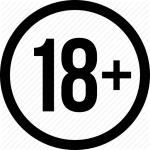 Bringing you all the insider information from the xxx industry.