Dogfart tells @xbiz to fuck off
When I was reading the comments on my first post on this site and boy did that stir up a shitstorm, I saw that Dogfart had tweeted out something about the xbiz awards.
Why nobody is talking about this is beyond me. It's the most epic fuck you twitter rant I've seen in a long time.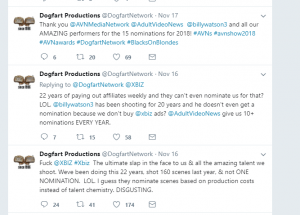 Fuck @XBIZ #Xbiz The ultimate slap in the face to us & all the amazing talent we shoot. Weve been doing this 22 years, shot 160 scenes last year, & not ONE NOMINATION. LOL. I guess they nominate scenes based on production costs instead of talent chemistry. DISGUSTING.
22 years of paying out affiliates weekly and they can't even nominate us for that? LOL. @billywatson3 has been shooting for 20 years and he doesn't even get a nomination because we don't buy @xbiz ads? @AdultVideoNews give us 10+ nominations EVERY YEAR.
It's worth noting Dogfart did get 15 nominations from AVN.
But damn not everyone can win an award. If they gave them out to everyone, what would be the point?