The 'Black Belle Knox' Comes To GhettoGaggers.com
Ghetto Gaggers, the undisputed champ of hardcore interracial pay sites, announced the release of a new Boy/Boy/Girl scene, "Black Belle Knox", online now.
Fans are sure to love this fierce and messy IR scene, in which a petite nubian newbie decides to really go for it in her porn debut.
"This scene is one of our best and I know our members are going to love it," said a company rep.
"This girl is Belle Knox's black twin; same body, same features and voice," a company rep stated. "These big dick sucking lips showed off the teleology behind them—intelligent design at its best. They sealed around the dick root with an air tight seal, as she bobbed up and down without breaking the sacred vacuum!"
"She's a natural, and you'd never know this is her first on camera."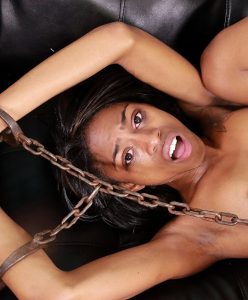 The lithe amateur literally flips her wig after being told "we just want neck", and welcomes a face fucking "the Dirty Jersey way" from the GG "pale posse".
"I'll tell you what, if all girls could deep throat like this girl, oh my God — she is marriage material!" enthused GG franchise performer Bootleg. "She went from start to finish with zero brakes… surprised the fuck out of all of us because we thought this pretty prissy little 90-pound thing is definitely going to tap out!"
"This is the kind of performer that makes Ghetto Gaggers famous! This scene is basically an instructional video on how all GG girls should take white boys dicks."
Bootleg began his porn career 14 years ago. His stage name was inspired by the fact that, before breaking into the adult business, he would copy his favorite Facial Abuse scenes from its website, burn them to DVDs and sell them at work!
The superfan-turned-cocksman has shot for Ghetto Gaggers and sister site FacialAbuse.com since 2006.
Sure to cure the wintertime blues, the new 55-minute Ghetto Gaggers scene, "Black Belle Knox", is available for streaming and download now, and features a massive set of 904 high-resolution photos.
Check out the NSFW trailer here.
Videos are now available at GhettoGaggers.com in multiple formats: MP4, mobile, and 60p HD, with 4K video downloads available soon. 
About Ghetto Gaggers:
Groundbreaking and politically incorrect rough IR website GhettoGaggers.com was conceived in 2004 by director, adult webmaster and impresario Duke Skywalker, partially in response to the advent of "blacks on blondes"-style content online. After his subscribers demanded an interracial niche rough sex platform, Skywalker created white-on-black site Ghetto Gaggers to fill the void — with tongue planted firmly in cheek.
In 2010, the porn provocateur debuted BlackOnBlackCrime.com as an all-black answer to Ghetto Gaggers, and followed up in 2018 with the satirical black-on-white rough sex site BlackPayback.com.
Hated by critics and loved by fans, GhettoGaggers.com houses 16 years of exclusive boutique content featuring the most entertaining extreme interracial encounters starring a clutch of sexy amateurs.
In addition to a slew of intense original content, the weekly updated GhettoGaggers (GG) now features a freshly redesigned members area with an improved content management system. 
The GG tour now features a slicker layout with updated free trailers that potential members can sample before joining. The entire site is also mobile friendly, to ensure that users have an optimal on-the-go web experience.
Webmasters and affiliates can promote GG via the DukeDollars.com affiliate program.
"DukeDollars has been around since 2003," Skywalker adds. "I have the requisite knowledge of our customer base to provide my affiliates with the precise tools needed to generate sales, because I produce the exact niche content potential customers desire."
Find out more about Ghetto Gaggers at their official Twitter @GhettoGaggers
Publicity and media relations for Ghetto Gaggers are provided exclusively by HoneyHouse PR. Follow us on Twitter, @HoneyHousePR. For interviews or media inquiries, contact [email protected]
Two-fisted reporter. That's not my microphone, I'm just happy to see you.